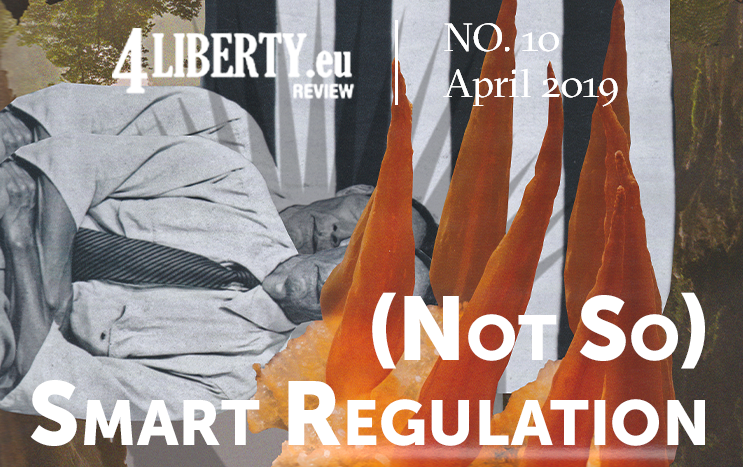 We are pleased to present the tenth issue of 4liberty.eu Review, titled "(Not So) Smart Regulation". With contributions covering Poland, Slovakia, the Czech Repubic, Ukraine, Bulgaria, Serbia, Lithuania, and cross-national analyses, it offers a wide range of perspectives on regulation – discussing not only the particular instances of (de)regulation, but also tools of measuring its scope (as, for instance, Doing Business Index).
We trust that this issue may therefore act as both a reason for re-opening the discussion on what sets apart smart from fatuous regulation, and as an indicator of where the problems lie in the CEE region.
Below, you may download the full issue, as well as read the journal online via Issuu. We also encourage you to download and share individual articles.
---
DOWNLOAD FULL ISSUE (PDF):
---
---
DOWNLOAD INDIVIDUAL ARTICLES (PDF):
00_OLGA ŁABENDOWICZ_(NOT SO) SMART REGULATION_EDITORIAL
01_DETMAR DOERING_LESS AND BETTER REGULATION MEANS BETTER LIFE_FOREWORD
02_MIHAILO GAJIĆ_IS DOING BUSINESS REPORT A GOOD TOOL FOR DESCRIBING BUSINESS
03_RADOVAN ĎURANA, MARTIN VLACHYNSKÝ, JAKUB ZEMAN_WHEN BUREAUCRATS CUT
04_MICHAEL FANTA_GOVERNMENT STRATEGY TO REDUCE ADMINISTRATIVE BURDEN CASE OF THE
05_PAVEL PETERKA_HOW MUCH RED TAPE IS TOO MUCH RED TAPE
06_MARCIN ZIELIŃSKI_SMALL IS NOT ALWAYS BEAUTIFUL, ESPECIALLY WHEN AIDED BY (POLISH)
07_GINTARĖ DERŽANAUSKIENĖ, ANETA VAINĖ_RETAIL OPENING HOURS REGULATION THAT
08_KALOYAN STAYKOV_POWER MARKET LIBERALIZATION IN BULGARIA A DECADE OLD PROBLEM
09_OKSANA KUZIAKIV_ECONOMICS CONJUNCTURE AND REGULATORY CLIMATE IN UKRAINE
10_RADOVAN ĎURANA _TWO STEPS FORWARD, ONE BACKWARD_AFTERWORD