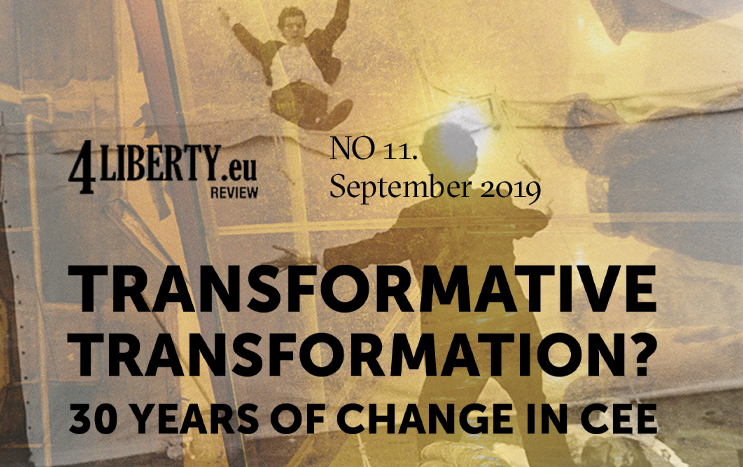 We are pleased to present the eleventh issue of 4liberty.eu Review, titled "Transformative Transformation? 30 Years of Change in CEE". With contributions covering Poland, Slovakia, the Czech Repubic, Ukraine, Bulgaria, Hungary, and cross-national analyses, it provides a wide range of perspectives on the last three decades in the region – thus offering a unique insight into the developments stemming from the collapse of the Soviet bloc.
We trust that this issue may therefore act as not only a reason for reminiscing about the past, but also a pretext for further challenging ourselvs to fight for a brighter future in the CEE region.
Below, you may download the full issue, as well as read the journal online via Issuu. We also encourage you to download and share individual articles.
---
DOWNLOAD FULL ISSUE (PDF):
---
---
DOWNLOAD INDIVIDUAL ARTICLES (PDF):
EDITORIAL-Transformative Transformation_Olga Łabendowicz
TOMASZ KASPROWICZ 30 YEARS OF FREEDOM IN CEE VARIOUS PATHS
MARTIN REGULI EU ACCESSION AND REVIVAL OF NATIONALISMS IN CEE
MATE HAJBA ORBANIZATION OF THE MAGYAR STATE HUNGARY IN THE PAST 30 YEARS
IRYNA FEDETS 30 YEARS LATER WILL SOVIET LEGACY STILL SHAPE UKRAINE'S FUTURE
JANOS KARPATI MEDIA UNFREEDOM, HUNGARIAN STYLE FROM "APO" TO "KESMA"
ROMAN MÁCA "GOOD OLD TIMES" FAKE NEWS MACHINE IN THE CZECH REPUBLIC
MIŁOSZ HODUN THE END OF AN ERA RANKINGS WILL TELL YOU THE TRUTH
MAREK TATAŁA IT'S NOT ONLY THE ECONOMY, STUPID PROGRESS IN POLAND
ADRIAN NIKOLOV BULGARIA ON THE PATH TOWARDS ELECTED AUTOCRACY
GÁBOR HORN THERE WILL BE A LIBERAL EAST-CENTRAL EUROPE AGAIN!
AFTERWORD-THE LAST 30 YEARS IN A HISTORIC PERSPECTIVE_Krassen Stanchev