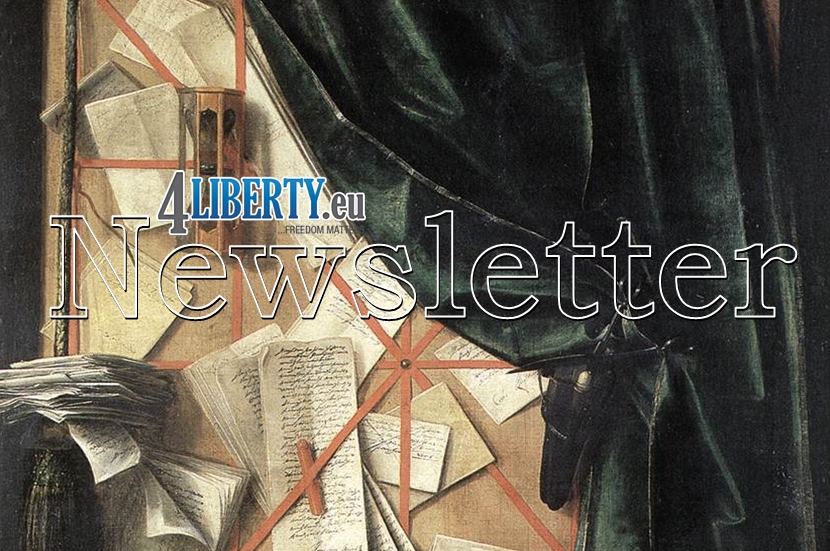 Cornelis Norbertus Gysbrechts: Trompe-l'oeil: Letter Rack with an Hourglass, a Razor and Scissors (ca. 1664) // Public domain
The February issue of the 4liberty.eu Newsletter provides an overview of the articles published on the 4liberty.eu website, serving as a starting point for further exploration.
Russia attacked Ukraine. The first missiles and rounds fell in the south, including the capital – Kiev. The Russian army crossed the borders of Ukraine in a number of points, including across the border with Belarus.
4liberty.eu:

Keeping you updated on the stances of CEE governments on the Russian invasion in Ukraine. Learn what the officials in Lithuania, Slovakia, Hungary, and Georgia, say about the ongoing war.

Jan Mosovsky (Liberalni Institute):

Pandemic Has Plunged 100 Million People into Poverty Globally

While for the second year now we have been tracking new numbers of coronavirus-related cases and deaths several times a day, and estimates for the cost of the economic lockdown range between two and four billion CZK a day (for the Czech Republic), another crucial figure has escaped our attention.

ELF & Liberte!:

War in Ukraine: Fighting for Free World [PODCAST]

We present you the first podcast from the Liberal Europe Podcast: The CEE Focus. In the first episode, the host, Leszek Jażdżewski, Vice-President of the Board of the Poland-based Liberte! Foundation and the Editor-in-Chief of the Liberte! magazine, talks to Olha Konsevych, a Ukrainian journalist and researcher, the Editor-in-Chief of the Ukrainian newspaltform 24tv.ua, about the war in Ukraine.

Oksana Kuziakiv (IER):

In the morning, we all heard explosions. Russians fired rockets at suburban areas of Kyiv several Russian helicopters were shot down, dropping something on some factories in Kyiv. The airports are fired at. It's still hard to believe.

Mate Hajba (Free Market Foundation):

Propaganda Before Hungarian Elections

In Hungary, most media outlets are funded by the government, which as such requires them to be very much biased. The tax-funded public television, which normally would have to inform rather than indoctrinate people, is dismissed by the Hungarian youth as a fake-news channel.

Elena Leontjeva (LFMI):

EU citizens are collecting signatures for a petition demanding a universal, unconditional income for everyone. What does this mean? Everyone will have a living wage, regardless of what type of work they do or what contribution they make to the society. Without any stipulation. Without any conditions.

Milosz Hodun (Projekt: Polska & FNF):

What Happened Recently in Poland

PiS administration is building a border wall to keep out illegal migrants coming from Belarus (cost of EUR 350 million). However, experts warn the barrier will also cut through one of the most significant wild areas in Europe.