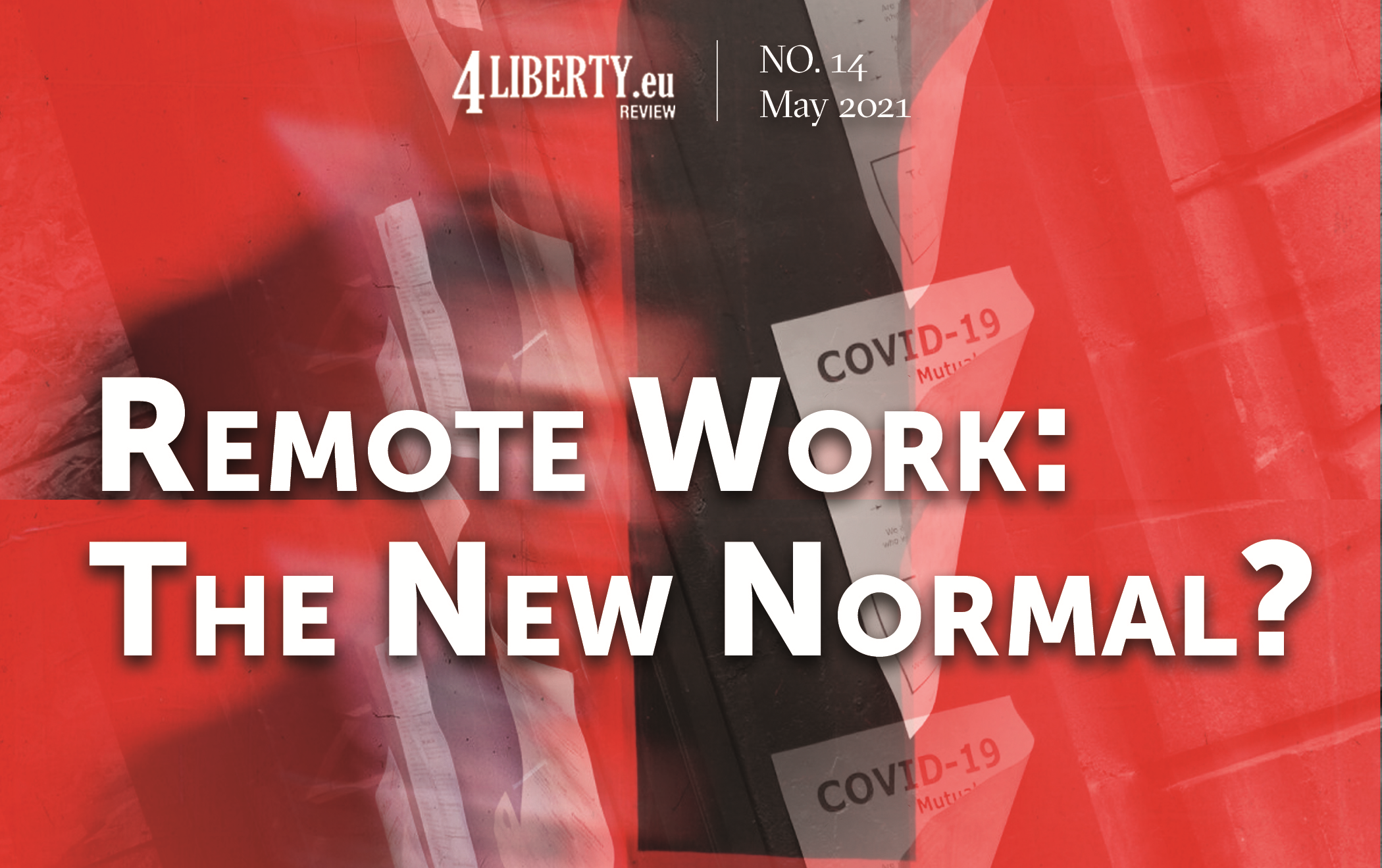 4liberty.eu
We are pleased to present the fourteenth issue of 4liberty.eu Review, titled "Remote Work: The New Normal?". This time, our primary focus is on how the COVID-19 pandemic has changed the way we work in the CEE region (and beyond) as well as its impact on work-related spheres of our lives.
By analyzing the cases from the Hungary, Slovakia, Czech Republic, Poland, Ukraine, Estonia, Lithuania, and Croatia, among others, we attempt to shed some light on the most recent and troubling phenomena in order to recommend most suitable solutions to moving forward.
Below, you may download the full issue, as well as read the journal online via Issuu. We also encourage you to download and share individual articles.
---
DOWNLOAD FULL ISSUE (PDF):
---
READ ONLINE VIA ISSUU
---
DOWNLOAD INDIVIDUAL ARTICLES (PDF):
OLGA ŁABENDOWICZ - EDITORIAL - WORKING OUT THE NEW NORMAL
MÁRTON SCHLANGER REMOTE WORKING IN HUNGARY - WILL WE EVER SEE OUR OFFICES AGAIN
KAROLINA MICKUTĖ & ŽILVINAS ŠILĖNAS THE PILLAR OF SUSTAINED BUSINESS DURING COVID-19 - THE PLATFORM ECONOMY
ŠÁRKA PRÁT THE WORLD WILL FIND A NEW NORMAL A CZECH PERSPECTIVE
MAREK TATAŁA REMOTE WORK AND REMOTE HEALTHCARE IN POLAND
IGOR ŠLOSAR THE ROLE OF THE STATE IN REGULATING WORK FROM HOME - THE CASES OF CROATIA AND ESTONIA
TOMASZ KASPROWICZ REMOTE WORK IS HERE TO STAY A JOURNEY THROUGH TIME AND TECHNOLOGICAL DEVELOPMENT
VIERA ŽÚBOROVÁ SOLIDARITY IN TIMES OF CRISIS, BUT WITH WHOM THE IMPACT OF THE COVID-19 PANDEMIC ON THE WORK OF CIVIC SOCIETY ORGANIZATIONS AND OTHER NGOS IN SLOVAKIA
MARIA SŁOMIŃSKA-FABIŚ THE EFFECTS OF COVID-19-INDUCED TRANSITION TO REMOTE WORK ON GENDER EQUALITY